Better known as the Gem Capital of Thailand, the coastal province of Chanthaburi has much more to offer than the bustling gem markets. Apart from the opulence of stones and gems, nature has gifted this coastal town with picturesque waterfalls that tourists across the globe crave to take a picture of. If neither history nor gem market excite you, Chanthaburi awaits for you with a number of waterfalls that allow you to rejuvenate yourself amidst nature. Here are the top 10 Chanthaburi waterfalls that offer scenic beauty and absolute reinvigoration.
So, while you're visiting this gorgeous Thai province, make sure you add more charm to your vacation with these best waterfalls that provide absolute calmness!
1. Khao Sip Ha Chan Waterfall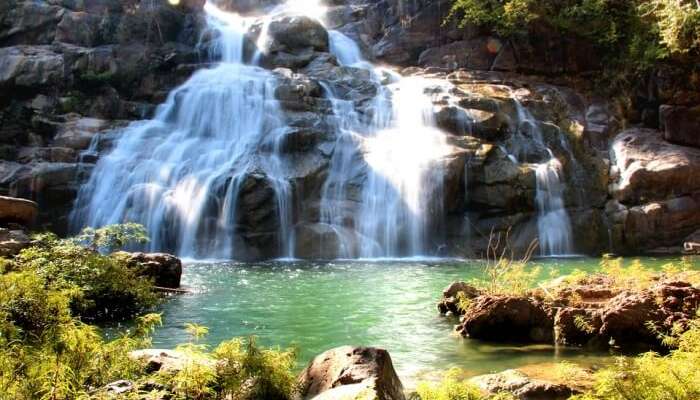 Being a significant part of the Khao Sip Ha Chan National Park, this waterfall tops our list among the waterfalls in Chanthaburi. It transports you to the land of heavenly nature from where you can enjoy the panoramic view. Having 15 tiers, the water flow remains consistent here throughout the year. Being home to monkeys, gaurs, and gibbons, the park has campsite area as well in case you are willing to spend a couple of nights amidst the nature. Apart from the waterfall, nature here has enriched itself with mountains as well as cliffs. Dream comes true for those who always had a desire to watch the stars at night and stay within close proximity of a waterfall.
Location: Khao Sip Ha Chan National Park, Khun Chong, Wang Sombun District, Sa Kaeo 22180, Thailand
Thailand Holiday Packages On TravelTriangle
Experience thrilling adventure sports, enjoy Thai cuisines, or pamper yourself with a relaxing spa. Book Thailand holiday packages on TravelTriangle and enjoy the beauty of the beaches of Krabi, Phuket, and Ko Samui.
2. Klong Piboon Waterfall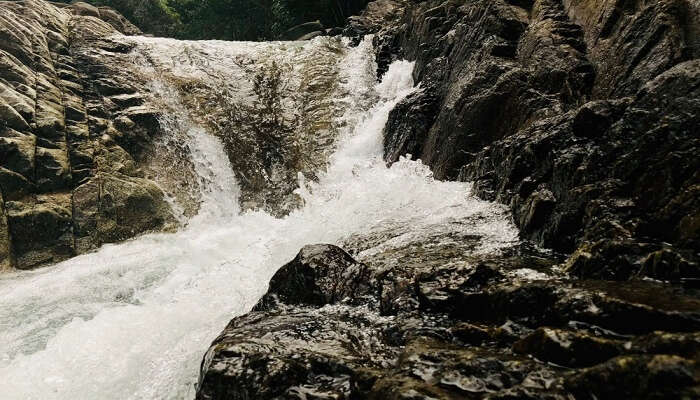 Located inside the Khao Khitchakut National Park, the Klong Piboon Waterfall is the ideal place to be at when you are willing to play with your kids and friends. Allowing you to spend some in tranquility, this waterfall is perfect for those looking for a recreational spot during your vacation to Chanthaburi. The distance between the National Park office and the waterfall is around 8 kilometres. Tourists usually come here during the months in between November and January. This is one of the most prominent waterfalls in Chanthaburi Thailand.
Location: Khao Khitchakut National Park, 34 Pluang, Khao Khitchakut District, Chanthaburi 22210, Thailand
3. Khlong Naalai Waterfall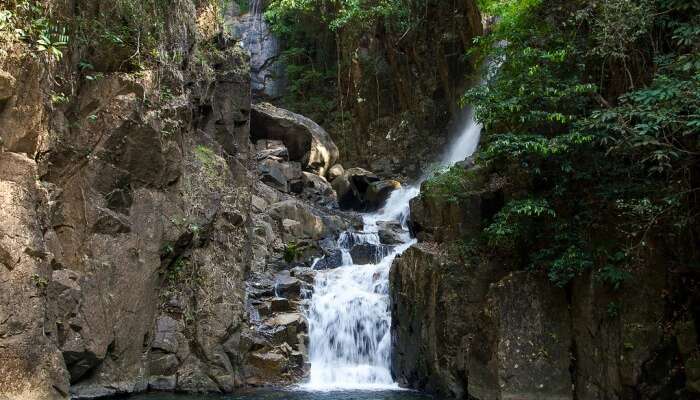 Being a must visit place for those who embrace nature and love bushwalking, this waterfall has been attracting nature-lovers for years. Located approximately at a distance of 6 kilometres from Chanthaburi, this waterfall seeks to astonish you with its liveliness. Being one of the true gem of the Klong Narai sub-district, this waterfall lets you enjoy the surrounding nature consisting of tropical rainforest.
Location: Namtok Philo National Park, Thailand
4. Philo Waterfall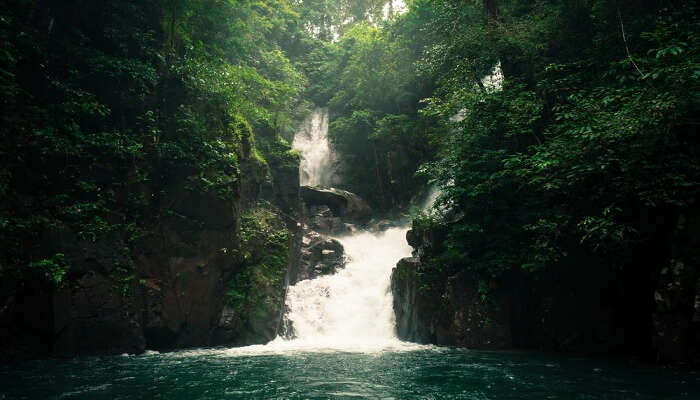 Another less explored gem in the Namtok Philo National Park is the Philo Waterfall. Located at the lap of the Khao Sa Bap mountain range, this waterfall is spread across 134.5 square kilometres. This medium-sized waterfall adorns itself with a number of level 3 features including cool basin, clear water, flowing streams etc. If you are at this waterfall, you should consider visiting the Along khon Chedi along with the Phranang Reua Lom Pyramid in Thailand. This pyramid was built to commemorate the Phra Nang Chao Sunanthakumarirat.
Location: Namtok Philo National Park, Thailand
5. Krathing Waterfall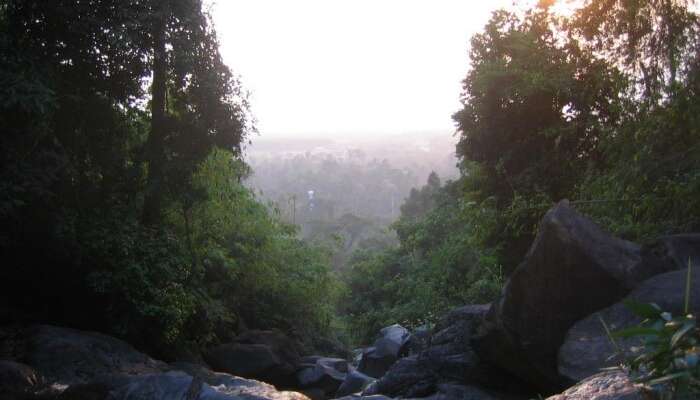 Another true gem located in the Khao Khitchakut National Park is the Krathing Waterfall. Having a moderate size, this waterfall consists of 13 tiers and you will find the water flow to be moderate across different seasons. Perhaps the most beautiful element of this waterfall is the natural trail that has been built by the waterfall levels. The crystal clear water in the pond adjacent to the waterfall makes the entire experience a delightful one for you.
Location: Khao Khitchakut National Park, 34 Pluang, Khao Khitchakut District, Chanthaburi 22210, Thailand
6. Trok Nong Waterfall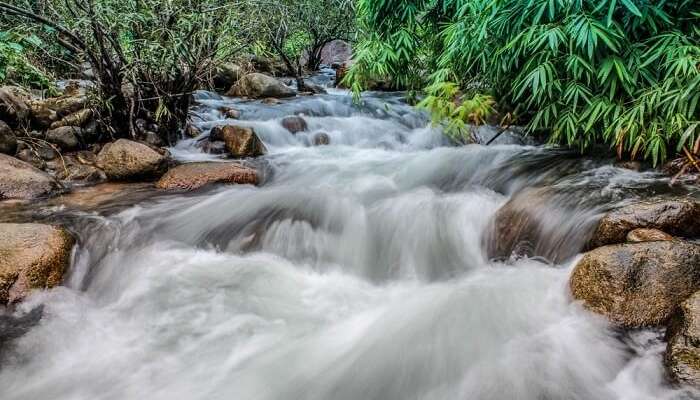 Located at a distance of 6 kilometres from the Chanthaburi town, this waterfall is one of the most beautiful waterfalls near Chanthaburi. just 2 kilometres away from the ranger station. This medium sized waterfall adorns itself with a diverse range of flora which is worth visiting. The surrounding area is known for being home to the wild animals. In case you are planning to visit this waterfall, you need to get to the Highway No. 3277 via Highway No. 3. After taking a left turn at the Tronk Nong Market, you will be reaching the waterfall.
Location: Trok Nong, Khlung, Chanthaburi, Thailand
7. Khao Soi Dao Waterfall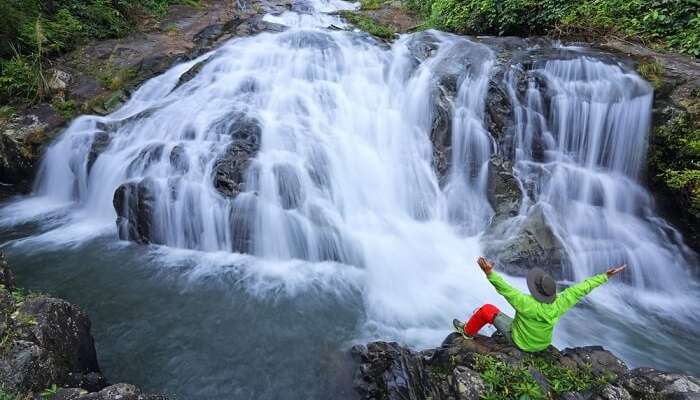 Located in the Khoa Soi Dao Wildlife Sanctuary, this waterfall is approximately 80 kilometres away from the Chanthaburi. With 16 tiers, this waterfall is moderate in size. Enabling you to behold the natural beauty of the wildlife sanctuary, this waterfall usually has a steady water flow throughout the year. Visiting Chanthaburi waterfalls will remain incomplete without this one.
Location: Sai Khao, Soi Dao District, Chanthaburi 22180, Thailand
If you are in search of a serene vacation instead of visiting the tourist spots, these waterfalls will certainly amaze you with their offerings. A trip to Chanthaburi will never be complete without visiting one of these waterfalls. Moreover, don't miss the opportunity to get a postcard perfect picture in front of these waterfalls. So, what are you waiting for? Plan a trip to Thailand for a mesmerizing vacation in this charming land!
Looking To Book An International Holiday?
Book memorable holidays on TravelTriangle with 650+ verified travel agents for 65+ domestic and international destinations.